Aircrafts
Cessna 441 Conquest II - Turboprop
High cost-efficiency, convenient seating capacity, high speed and enormous range within its massclass.
Passenger Seats: 7+1 Seats
Cruise speed: approx. 530 km/h
Flight altitude: approx. 9.000 m
Range: approx. 3.000km
(Vienna - Moscow, Vienna - Madrid)
The Cessna 441 Conquest II stands out from comparable business-jets because of the considerably lower operating expenses. Offering equal cabin capacity and almost double range, the marginal deficiency of speed becomes negligible. From Vienna the Cessna 441 can reach directly i.e. Madrid, Tel Aviv or Moscow for you.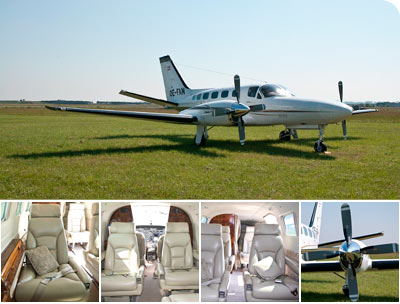 Cessna 421 "Golden Eagle" - Twinpiston
High efficiency, ample passenger cabin, ideal for short-haul flights
Passenger Seats: 5+1 Seats
Cruise speed: approx. 340 km/h
Flight altitude: approx. 7.500 m
Range: approx. 1.000 km
The Cessna 421 Golden Eagle is the perfect aircraft to cover short distances like Wiener Neustadt - Košice, and it offers transport for up to four passengers in its pleasant spacious cabin. Whether you head for a cruise in Croatia, a business meeting in Krakow or a trade fair in Munich, with the Cessna 421 you are sure to enjoy a quick and comfortable journey.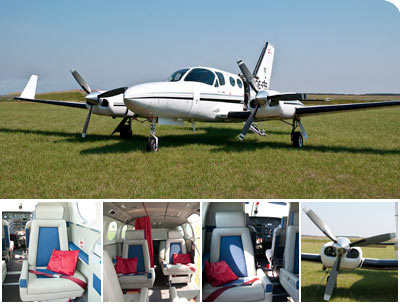 NEWS
---
Pleased passengers
well-known personalities from politics, economy and culture appreciate our service.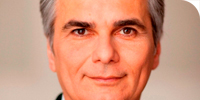 Austrian Chancellor Werner Faymann
Fotograf: Ernst Kainerstorfer
Quelle: BKA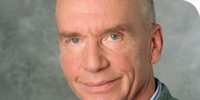 Carl Michael Belcredi
© ORF/ Titzer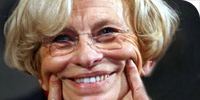 Emma Bonino
---
---
Multi-engine Piston /MEP class rating We can offer you a special package upon your request!
---
HANGAR-development of infrastructure in further progress!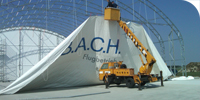 ---